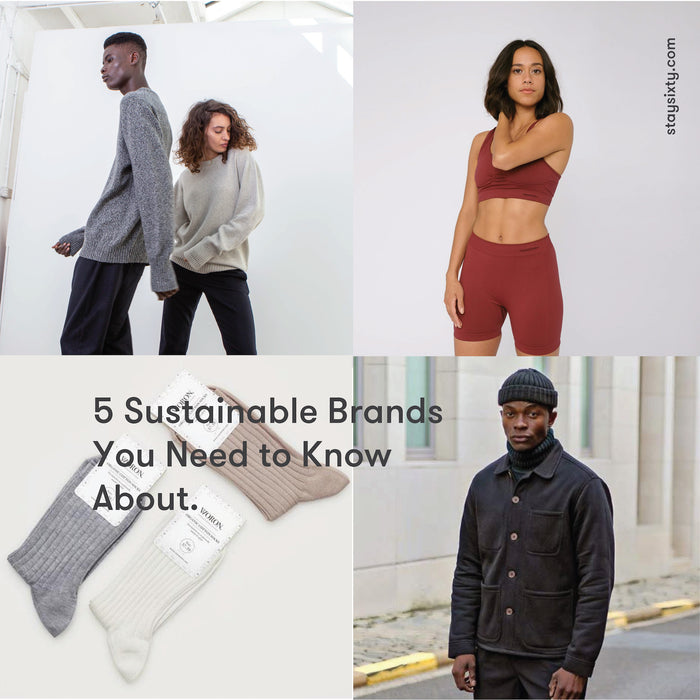 5 Sustainable Brands You Should Know About.
At Stay Sixty®, we champion brands that create quality, long-lasting products - brands who believe in slow-fashion and buying better less. We champion labels with real sustainable credentials, each of which is candid and transparent about its method and impact, following the three pillars of sustainability. We thought it was about time we commended some of our favourite sustainable clothing brands and how they're approaching their impact on our planet.

1) Riley Studio // Sustainable Gender-Neutral Staples.
On a mission to make conscious consumerism the norm, Riley Studio creates gender-neutral wardrobe staples and accessories. By sourcing recycled materials, and working with ethical partners, they are the definition of an eco-friendly clothing brand. Riley Studio also offers a free repair service for its items; simply send the sustainable fashion brand an email and they'll do the rest. What's more, a reuse and recycle scheme means that if you've reached the end of the road with any of their items, they'll organise returns so that no Riley Studio pieces end up in landfill.
Shop Riley Studio's Gender-Neutral Fashion here

2) Organics Basics // Eco-friendly Underwear & Activewear
Organics Basics produce eco-friendly underwear, activewear and essentials — all made ethically in Europe. They place sustainable thinking at the centre of everything - that means they only choose fabrics that care for our environment and only partner with factories that care about their impact, too. Designing everything to last meaning investing in quality fabrics and workmanship - but it also means designing with simplicity and function in mind. Something we can certainly agree on!
Shop Organics Basics sustainable activewear here
3) Haeckels // Handcrafted, Eco-friendly, Skincare.
Haeckels is award winning independent skincare brand based in Margate. A 'small giant challenging the skincare world'. All products are handcrafted in their seafront laboratory in Margate and are tested on themselves. They are one of only two licenses in the whole of England to harvest seaweed from the English coastline and they take great pride in its conservation. Their coastal license allows them to harvest ocean vegetables direct from a cretaceous chalk reef allowing Haeckels to design unique, natural, products of exceptional quality.
Shop Haeckels range of eco-friendly skincare products here
4) Far Afield // Sustainable Men's Fashion.
Sustainability has a number of different layers, not all of them focus solely on the environmental impact of a brand and its processes. Social sustainability is another key concern for Far Afield, the ethical Men's fashion brand taking a real stand when it comes to ethical sourcing. Far Afield takes an equally staunch standpoint to its eco-friendly materials only purchasing GOTS Organic Cotton or cotton accredited by the Better Cotton Initiative. The BCI works around 6 key sustainability principles: crop protection, water usage, soil health, bio-diversity, fibre quality and fair working conditions.
Shop Far Afield's Sustainable Men's Fashion here
5) Woron // Sustainable Fashion Essentials.
Woron is a Copenhagen based collaboration between two sisters - 
Arina and Anya Woron. Clean in both aesthetics and conscience, Woron strives to find a perfect perfect balance between producing quality products that stay in fashion and staying true to their moral compass. They're also a 
vegan and cruelty free brand - 
using plant based fabrics, not only because they are great for your skin, but also to ensure that no animals are hurt in the process of the making their products.
Shop Woron's sustainable fashion essentials
here
You can purchase our sustainable range of stainless steel water bottles
here
Back to Journal