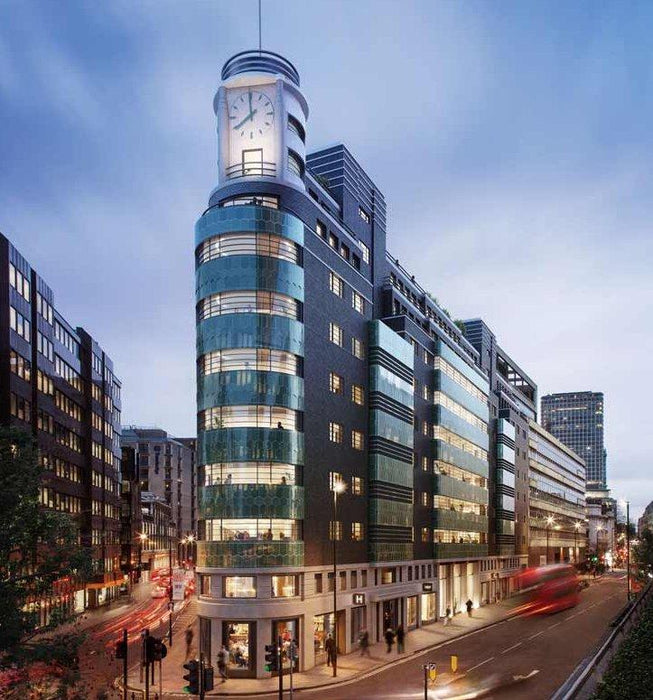 Commonwealth House | No. 1 New Oxford Street
Stay Sixty® were recently lucky enough to visit one of the most beautifully designed office spaces in Europe. An Oasis of calm from the crowds of Holborn and its numerous eateries and offices - which is no surprise given that it is now the head office of sleek, minimalist, Swedish fashion brand COS.
Located at the juncture of New Oxford Street and High Holborn, Architects Orms has completed the refurbishment and extension of Commonwealth House into 95,000 sq ft of Grade A office space and 12,250 sq ft of retail space. The building has been rebranded No1 New Oxford Street.
Originally designed by architect and planner Henry Philip Cart De LaFontaine, Orms has drawn its design influence from the prominent Art Deco and Art Moderne references throughout the building, the architects' drawings for the original building.
Materials of stone, brass, dark stained timber and ribbed glass have been used to enhance the building history, alongside green hexagonal glazed tiles which have been added to the exterior façade of the prominent prow Clock Tower and oriel windows on New Oxford Street. With the insertion of lifts and bridge decks into the previous courtyard which now overlook the new full height glazed atrium at the heart of the building. Sitting below this atrium is a new double height entrance and reception which opens up onto New Oxford Street.
(photo credit: Orms Architects)
On the street front, there is a consistent retail frontage by retaining the existing Portland stone piers and adding new curved bay shopfronts. A single storey 9th floor rooftop extension is also set back from the street between the two extended brick cores.
We just wish this was the Stay Sixty® office!
Back to Journal