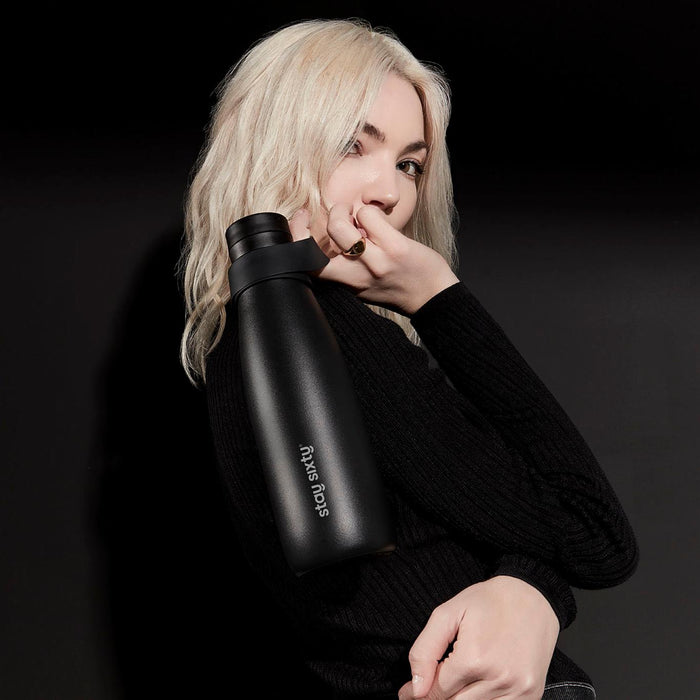 2020 Healthy Habits | 6 Ways to Hydrate More Effectively.
How many times have you been told to drink more water? We all know we should be hydrating regularly, but how many of us know how and when to hydrate most effectively and why hydration is so important to maintaining a healthy lifestyle? Good hydration levels are key to helping to dissolve nutrients, carry waste, regulate body temperature, send messages to the brain, and lubricate our joints
Your body needs water to function and feel good. However, you lose a lot of water every day through breath, sweat (even if you don't work out), urine, and bowels. Your only choice for perfect health is to replenish your body with the water that it needs.
Water, which comprises on average 60% of the human body, is distributed evenly among the muscles and organs, but how does this distribution take place? It is the blood that helps transport water throughout the body, according to the requirements of every organ and muscle.
How do you know if you're dehydrated? Here are some tell-tell signs:
Dryness: dry skin, eyes, lips, and hair.
Inflammation: skin rashes and burns, clogged pores leading to acne, red eyes
Urine color: When you wake upon the morning, your urine is dark yellow instead of light yellow (not clear).
Constipation: sometimes you don't have bowel movement for the entire day.
Little to zero sweat
1) Sip, don't guzzle.
Sip water slowly than guzzling it down at once. Sipping water and allowing it to stay in the mouth and then passing through the food pipe helps the alkaline saliva reach the stomach to neutralise acid levels in the stomach. Chugging water directly through a water bottle causes water to run down the throat, missing out on carrying saliva to the stomach. This is one of the key benefits of the new Series II stainless steel water bottle with TwistCTRL™ Sip Cap. Designed to channel water effectively, allowing you to sip through your mouth and helping your body hydrate more effectively.
When you urinate, your body loses salts along with the excess water collected in the bloodstream. This filtration is carried out by the kidneys. So, when you chug down a considerable amount of water in one sitting, due to the lower absorption levels by the tissues and muscles, in that short period of time, the kidneys end up registering this as excess water and will try to expel it. In such a case, the salts are mixed with this water and will be eliminated from the body.
2) Don't Let Yourself Get Thirsty.
The best indicator that you need to drink water? Thirst. The reason you have a sensation of thirst is because the lack of water alters the balance of salt in the blood and this imbalance causes a cascade of effects resulting in the desire (i.e. thirst) for greater hydration. In other words, carry a reusable water bottle with you through the day to ensure you keep your hydration levels at healthy levels at all times.
3) Hydrate As Soon As You Wake Up.
Your first bottle of water should be right when you wake up. Drinking water on an empty-stomach in the morning can do wonders for our bodies, both internally and externally. In fact, drinking two semi warm glasses of water first thing in the morning is an ancient Japanese daily ritual, and has been attributed to the health, beauty, and longevity.
A glass or two of water first thing in the AM helps to jumpstart your brain and body out of sleep mode, and into work mode. It also gets rid of any toxins and stubborn free radicals that have accumulated in your circulatory system overnight, and helps to clean and purify your body's internal organs. 
4) Drink Before You Eat.
Before any main meal throughout the day, you should hydrate 30 minutes before to help with digestion and keep your caloric intake in check. Not only does the water prepare your intestines for the food coming down the pike, it also prevents you from over-eating, since the water lines your stomach and makes you feel fuller faster. 
5) Drink Before a Workout (and After).
Depending on your body's fluid levels at the time, you may need one or more bottles of water before you hit the gym to protect against dehydration during your workout.  After your workout, it's important to drink a lot of water to replace the fluids lost through sweat and humidity.
6) Drink Before You Sleep.
If you are fully hydrated before going to bed, you can lower the risk of heart attack and stroke, as dehydration elevates the risk factors for cardiovascular disease. A heart attack occurs mostly in the morning because the blood is thicker due to loss of water. This is of the many good reasons to drink water at night in order to keep your body hydrated while you are sleeping.
You can purchase the Series II stainless steel water bottle in Stone here or our Coal reusable water bottle here.
Back to Journal