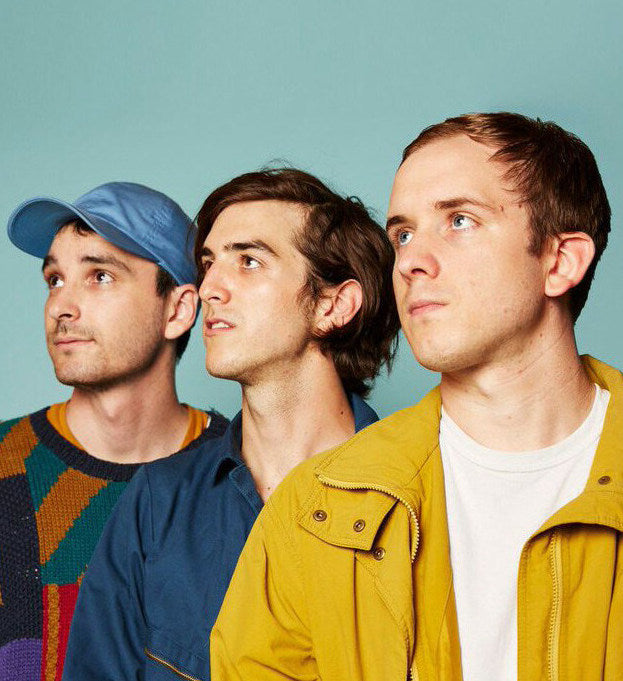 Re:Think ft half•alive | Experimental, Stylised & Conscious.
We sit down with Californian-based, indie-pop trio, half•alive as they embark on their global headlining tour. Formed just three years ago, the band have been creating something of a stir with their experimental videos, super-slick stylised performances and debut album. In the third feature of our Re:Think Series, we talk all things sustainability, slow-fashion and streetwear.
The band formed in 2016, consisting of vocalist Josh Taylor, drummer Brett Kramer and bassist J Tyler Johnson. Their paths crossed when Taylor and Kramer were renting studio time at the same location. The two had previously met Tyler through his brother, Jordan, who is half•alive's dancer and choreographer, and through being bandmates from a previous project.
The band describe their music as "toe tapping music with intentional and heartfelt lyrics. We've drawn multiple inspirations from UK artists, most notably Samm Henshaw and the 1975. We were so fortunate to have Samm featured on the record."
The trio recently released their debut album 'Now, Not Yet' to critical acclaim. "The process started by renting 3 different airbnbs around Southern California. There we crafted the majority of the songs and honed in on our vision for each song and consequently the record. We then brought our songs to a handful of amazing producers and hone in the songs. The reception has been amazing. It's been very surreal being on tour and watching fans sing lyrics to all the songs on the album. We've always been very intentional with our songs so its really special to see them resonate with others."
With "Still Feel" racking up 30m views on YouTube, moving image and stylised choreography clearly play a core role in the bands make-up and image, giving them the perfect platform in today's social media first industry. "Visuals have been a huge pillar for us in building the band's character from the start. We know that narrative is the most powerful captivator, and story telling by way of performance and choreography is a huge tool available to us, so we rely heavily on it" (Josh)
With a clearly conscious mindset, the band look to reduce their single-use plastic on tour as much as possible. However, help is needed to make this a far easier and universal process. "It's very difficult to reduce single-use plastic on tour. Plastic water bottles, utensils, cups, bowls and plates are infinitely more available than sustainable materials, so for those of us on the bus who really desire to travel sustainably, it requires some definite planning and determination. Methods that some of us have implemented are wooden-ware utensils, glass tupperware as to-go bowls, thermos cups/mugs for water, coffee and tea, a drawer on the bus for recycling plastics, and a large number of us have a plant-based diet, which is certainly the biggest reducer of greenhouse gases, global acidification, eutrophication, and both land and water use." (Josh)
With making small steps their key advice for creating a more sustainable lifestyle. "Eating plant based seems to be the most effective. Though that certainly isn't a requirement for the half•alive camp and we don't preach it from a soap box, those that choose that diet on our team encourage it through their everyday way of life.  Overall, its the seemly little things that can make the greatest impact in caring for our planet. Things like bringing your own reusable utensils or container when you go out, or looking up the things you eat and wear to find out where they come from and how they effect you and your environment. Or just considering what you buy, using one's power of purchasing or not purchasing can radically reorient how the system at large operates." (Josh)
The trio also share the Stay Sixty® vision for slow-fashion and buying key items less often. "That's been a unique undertaking to find cool clothes for guys (most the time) that is sustainable. When I learn about a new brand or clothing line I usually check an app called "Good on You" to learn about the environmental impact, ethical labor choices, and safe animal practices or lack of that clothing brands share. With that knowledge, finding affordable clothing that is mostly vegan has lead to a lot of thrifting/second hand stores." (J Tyler)
"But two companies I recently got to learn about and visit out of NYC are Noah and Aimé Leon Dore. These brands are very fun street fashion with a warm color aesthetic, affordable for the quality, and have really great sustainability practices." (J-Tyler)
As you would expect from Innovators creating such a buzz, they have some great music recommendations. "We're all constantly listening to new music but some notable artists with new releases on our radar have been: Hobo Johnson, Brittany Howard, BROCKHAMPTON, as well as Chance the Rapper."
You can catch half•alive on their current tour at the following venues:
12 Nov – Electric Brixton, London
13 Nov – o2 Institute 3, Birmingham
16 Nov – Academy Green Room, Dublin, Ireland
17th Nov – King Tuts Wah Wah Hut, Glasgow
Find out more about the band at www.halfalive.co or pre-order the beautiful stainless steel Series II water bottle in Stone here 
Back to Journal