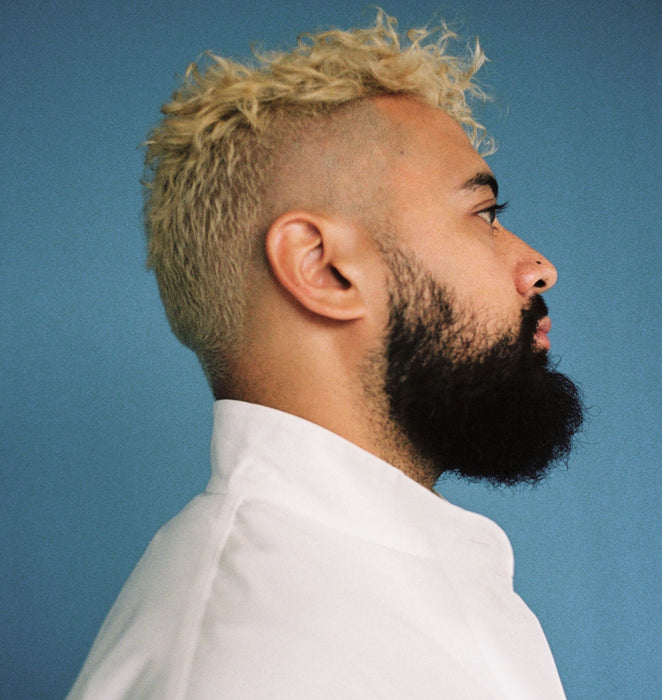 Re:Think ft Noah Slee | Sustainable Fashion Ideas
We sit down with Tongan-born, Berlin based Noah Slee as he releases his new single "Soulflower" 
Noah Slee recognises life's mercurial spectrums and chooses to incorporate and integrate them into his life and artistry. His frontier challenging framework extends across his multifaceted identity: as a musician, artist, producer, director, Pacific Islander, and an LGBTQ member. This envelope-pushing Creative shares our values  when it comes to climate change, sustainability and the education necessary to reduce the environmental impact for the benefit of younger generations.
Slee describes his sound as "Breezy R&B Jams". It's a sound we love, you find yourself safely deposited between lascivious soul, head-nod-worthy beats and contemporary r'n'b. His voice journeys with you, delicately slipping between three continents; a voice that can knot into pure percussion and uncoil into a thread of aching falsetto in the space of a verse. It's the result of a long-term partnership with Berlin-based Ben Esser.
With Slee about to release his anticipated new single, we can hear how excited he is to drop it. "Soulflower' drops on the 5th and is a story about forbidden love, I'm hyped for you to hear it. It's my dedication to the one that got away. Sometimes society, timing whatever circumstances you face when in a relationship forces a gap in your love for one another with no bridge to cross. The process of revisiting memories and making a song from them brought me so much joy. My thoughts are still so raw and pure. I love when a song helps you in that away and is also phat and sexy".
You can pre-save "Soulflower" here: https://orcd.co/noahsleesoulflower
Now living in Berlin, Slee grew up in Auckland, spending the previous years living in Brisbane, travelling through the US, UK, Europe, and the South Pacific, expanding his creative palette and perspective along the way. "Berlin couldn't be more different to New Zealand. From landscape to cultural differences. I enjoy both and continue to learn a lot from being in Berlin."
But the U.K will always hold a special place in his heart "U.K will always be my favourite music scene. It seems there is more space even in the commercial market for individuality. I love it all from Beatles, UB40, Radiohead, Amy Winehouse, Slowthai is dope and Jorja Smith list goes on....."
Slee outlines the differences between the U.K and Germany's anti-plastic movement. It's a stark contrast from the U.K's push for less plastic. "Germany has a decent recycling system, allowing people to also make money from their pfand system. Anti-plastic is a different story though, I think there are small changes but the urgency is not there yet. Like a lot of the world it's the young people who are leading these conversations and will be the first to have to deal with real effects if we don't make changes. 'Fridays for future' has been a good platform to create awareness."
He also shares our passion for buying better, less and more sustainable forms of consumption. Fashion is a key part of the Slee's identity "I try and rep local stuff where ever I am. I'm making an effort to not buy from big chain clothing stores, especially if they mass produce and make profit from underpaying workers, even if it is for some basics. I love ILOVEUGLY from NZ. My main source at the moment is thriftshops anyways. Quick tip, thrift in small towns if you're on the road. The gems you'll find !!!"
Keep your ears peeled for "Soulflower". Re:Think will be back for a second instalment with more words and insights.
Buy the all new Stay Sixty® reusable water bottle in Coal here or in Stone here
Back to Journal