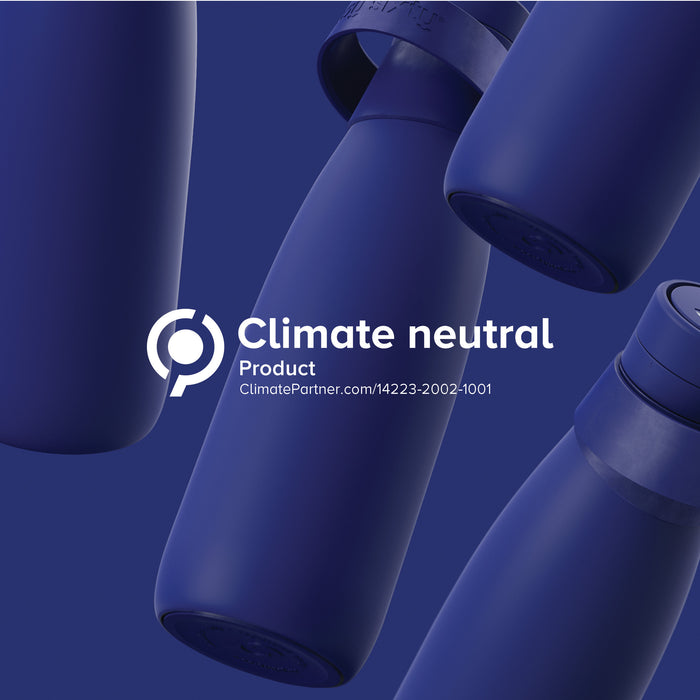 How Stay Sixty® is Reducing Plastic in the Ocean.
We're proud to announce our partnership with Climate Partner, making all Stay Sixty® Series II reusable water bottles certified climate neutral. We hope that in turn, this helps us build a truly sustainable brand and range of reusable products. Helping aid our planet by creating less waste and donating to key climate initiatives and projects that help repair the damage caused through over consumption and production. With Climate Partner, a leading solution provider for corporate climate protection, we have a strong partner by our side for the implementation of climate neutral products. 
By purchasing our climate neutral stainless steel reusable bottles, you contribute to global climate protection and support recognised carbon offset projects. You also help to achieve the UN's Sustainable Development Goals, such as combating poverty and improving living conditions in emerging and developing nations.
The carbon offset projects, tested and certified according to international standards, demonstrably save carbon emissions. The TÜV Austria certified process from Climate Partner guarantees additional security for the offset of carbon emissions.
Climate neutral means that we offset the emissions generated by our reusable water bottles by supporting carbon offset projects.
Our Series II reusable bottle range is rendered climate neutral in three steps:
1) Calculating Emissions
We calculate the relevant carbon emissions of our company, reduce them as much as possible and calculate the emissions generated by our reusable water bottles.
The carbon footprint of products is calculated based on factors such as raw materials, production, and logistics. In addition, we take our general business activities into account, such as administration and business travel.
2) Offsetting Emissions
Carbon offset projects save or sequestrate emissions through measures such as afforestation or the replacement of fossil fuel technologies through innovative, climate-friendly alternatives. As a company, we have chosen to offset our emission through two key projects - helping build a more sustainable future.
Stay Sixty® 
supports activities of collecting/preventing plastics from entering our oceans through Plastic Bank
. For each ton of carbon offset, we also prevent 10kg of plastic waste from entering our oceans. Plastic Bank offers a root-cause solution to ocean plastic. Especially in developing nations, the lack of disposal infrastructure and greater dependency on single use packaging result in a disproportionate amount of pollution. Plastic Bank provides income opportunities to the extremely impoverished, currently operating in Haiti, Indonesia, and the Philippines. Collected plastic is recycled and processed into new raw material feedstock, called Social Plastic. This completes the plastic loop, creating a sustainable, circular economy
Through supporting wind farms on the Philippine island of Luzon. This helps ensure an increasingly independent supply of clean electricity to the population. Almost 22,000 people live in the project area, mainly from agriculture, fishing and tourism. The project has set up a comprehensive program to improve their living conditions and protect the environment. For example, new water tanks and filter systems were installed and hospitals were supported with material donations.
All Series II reusable stainless steel water bottles are certified climate neutral. We offset the carbon emissions caused by production, packaging, shipping from our Manufacturing Partner and delivery to our loyal Customers.
All projects are regularly audited by independent organizations and certified according to international standards, meaning that you can be sure the measures are being implemented on site.
3) Tracking Our Carbon Offset
We provide full transparency thanks to the Climate Partner labelling featuring a unique ID for our products: By entering the tracking-url www.climatepartner.com/14223-2002-1001, you can find information on the quantity of emissions offset and the carbon offset project we are supporting.
You can purchase our Climate Neutral Series II reusable water bottles in Stone here or in Coal here 
Back to Journal